2070 Riverside Avenue

Trail, British Columbia V1R 4A9
3 Bedroom
2 Bathroom
1859
2 Level
Forced Air
Acreage
$319,000
This home is a little charmer! It has an awesome view and accessibility to the Columbia River, a superb location to Trail's downtown and recreation facilities and is simply beautiful inside! All the details are done. No stone left unturned. This home has had nearly every inch polished, painted, detailed, repaired or replaced. Updated or new: wiring, plumbing, windows, fixtures, kitchen, heated tile floors, all 5 major appliances & water tank. The air-tight wood stove is now compliant for insurance, and warms this home with ease. New paint throughout and polished wood floors make this home fresh, clean and move-in ready! The detached garage has a separate electrical panel and is plumbed for sink. Upstairs in the garage has been finished with insulation, drywall, paint, lighting and could be a furnished as a rec room/studio/cave or possible fourth bedroom. The backyard has been extensively tidied and tended: there's a small trail system to get around, a fire pit and seating spots. Located across the street from Columbia River gives you envious access for swimming, fishing and paddle sports. Trail's biggest amenities are at arm's length: easy and quick walking distance to downtown, walk the pedestrian bridge to Butler Park and Trail Aquatic Centre. This small but mighty home is the total package: clean, modern, historic, kept, and river accessible and view! (id:36330)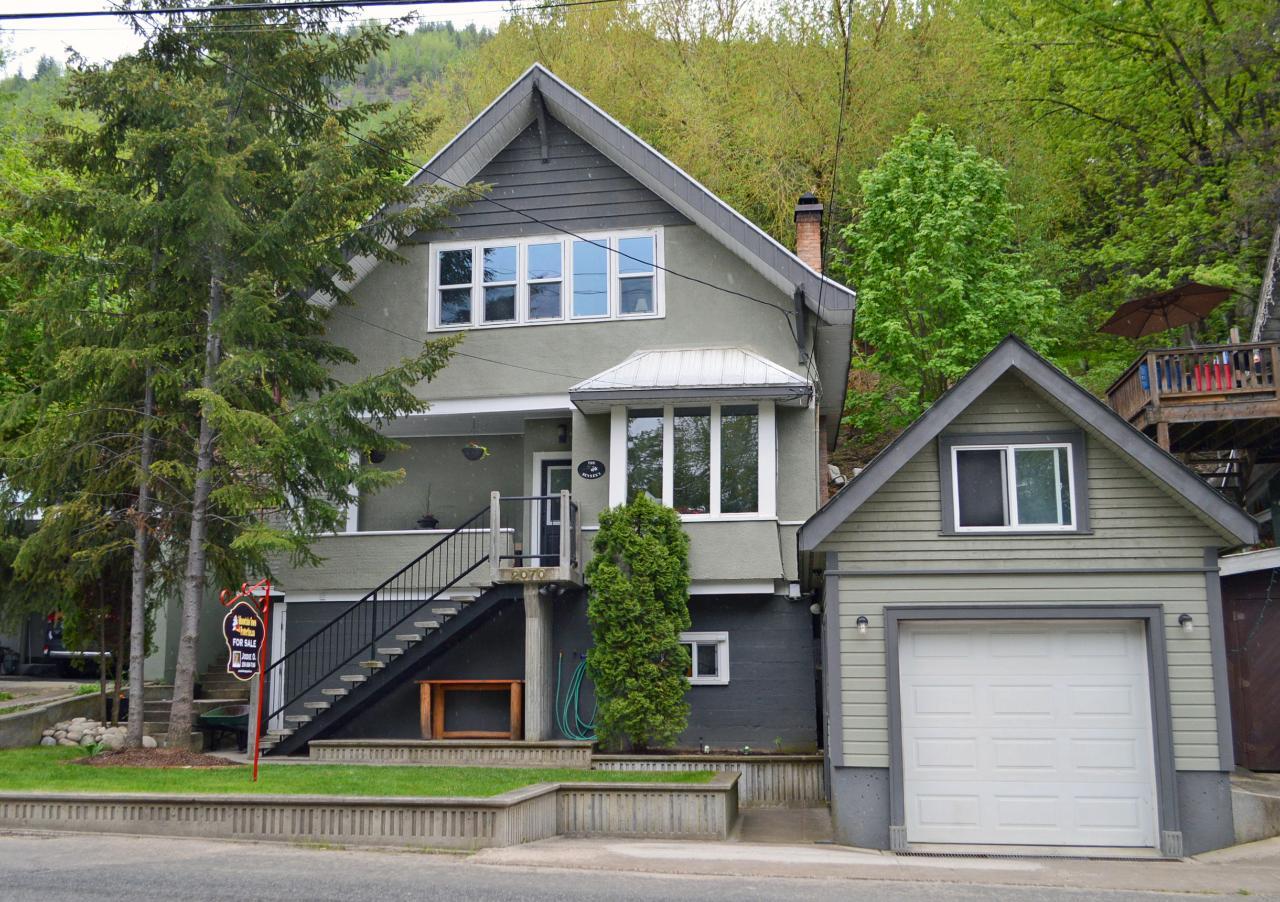 This home at 2070 Riverside Avenue Avenue in Trail British Columbia has had many meticulous upgrades and is move in ready!
For more information about the City of Trail, visit the Trail, BC web page at http://www.trail.ca
Interested? We are more than happy to help, to contact us click here.
Property Details
| | |
| --- | --- |
| MLS® Number | 2451944 |
| Property Type | Single Family |
| Amenities Near By | Stores, Shopping |
| Easement | Oil/gas/mineral Rights |
| Features | Central Location |
| Parking Space Total | 2 |
| View Type | River View |
Building
| | |
| --- | --- |
| Bathroom Total | 2 |
| Bedrooms Total | 3 |
| Architectural Style | 2 Level |
| Basement Development | Unknown |
| Basement Features | Unknown |
| Basement Type | Partial (unknown) |
| Construction Material | Wood Frame |
| Exterior Finish | Stucco |
| Fireplace Present | No |
| Flooring Type | Wood |
| Foundation Type | Concrete |
| Heating Fuel | Natural Gas |
| Heating Type | Forced Air |
| Roof Material | Metal |
| Roof Style | Unknown |
| Size Interior | 1859 |
| Utility Water | Municipal Water |
Land
| | |
| --- | --- |
| Acreage | Yes |
| Land Amenities | Stores, Shopping |
| Size Frontage | 50.0000 |
| Size Irregular | 7405 |
| Size Total | 7405.0000|under 1 Acre |
| Size Total Text | 7405.0000|under 1 Acre |
| Zoning Type | Residential Low Density |
Rooms
| Level | Type | Length | Width | Dimensions |
| --- | --- | --- | --- | --- |
| Above | Full Bathroom | | | |
| Above | Bedroom | | | 11'4 x 8 |
| Above | Bedroom | | | 15'4 x 13'4 |
| Above | Bedroom | | | 10'11 x 13'7 |
| Lower Level | Storage | | | 24 x 11 |
| Main Level | Living Room | | | 10'1 x 11'3 |
| Main Level | Kitchen | | | 20'5 x 14'11 |
| Main Level | Partial Bathroom | | | |
Utilities
https://www.realtor.ca/real-estate/21848711/2070-riverside-avenue-trail